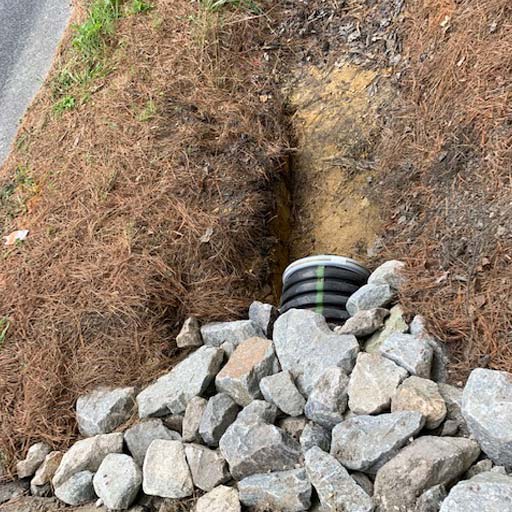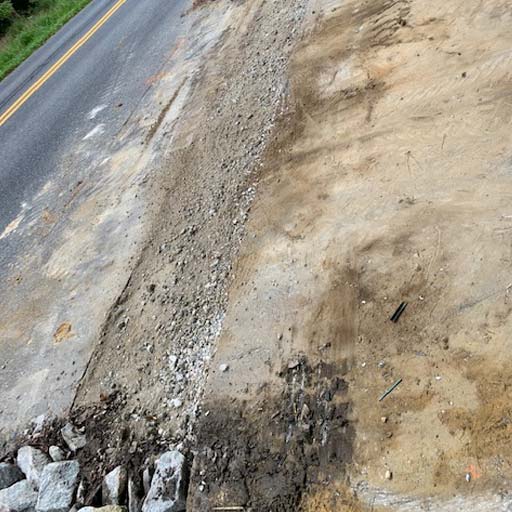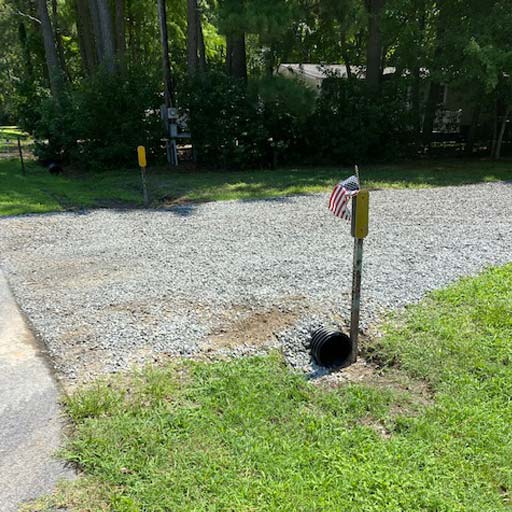 CULVERT PIPE INSTALLATION & REPLACEMENT
Driveway Culverts are used in vehicle access areas that tend to have problems with high water crossing. Each culvert is designed according to the type of traffic using it. Heavier traffic will call for larger pipe and a deeper base layer whereas lighter traffic will call for a more standard pipe and base. Regardless of traffic the main function is to have water flow underneath the vehicle access area through a pipe and down past the driveway. When culvert pipes are installed properly, water will flow through the pipe and continue past the driveway so that access will no longer be affected.
HOW IS A DRIVEWAY CULVERT INSTALLED?
Culverts are designed according to its intended use and the materials needed will be determined according to the design. Most driveway culverts will be corrugated steel or heavy-duty corrugated plastic. So, when the decision is made to install a culvert the next step is to hire a professional driveway culvert installation company like Justice Sealcoating and Excavating.
BASIC STEPS WE TAKE INSTALLING DRIVEWAY CULVERTS
Acquire any and all necessary permits before the job begins. When applying for permits, you will need to indicate where the culvert is to be placed and therefore will need to mark the location of the culvert by staking the beginning and ending location, as well as the distance from the nearest property corner or intersecting street. Each county, as well as some HOA/POAs, has their own requirements for installing culverts. So, when the planning process begins, the local code enforcement agency, and possibly HOA/POA, needs to be contacted so that the design adheres to their requirements. The length, size and materials may all be determined by your local building and construction codes.
Call before digging. Each utility company (electric, gas, water, etc.) will need to walk the area and flag any underground lines that could be affected by the culvert installation. We use Miss Utilities.
The next step is to purchase the right size and length of culvert pipe. The size will be determined by the kind of traffic the driveway will be handling. Typical driveway culverts will have a diameter ranging from 10-15 inches, again…many times local building codes will determine the size. The length must be so that it extends past the low end of the driveway. This helps keep erosion from shortening the lifetime of the culvert.
Now it's time to dig out the ditch and flatten the area where the culvert pipe will lay. To make sure that the flattened area slopes toward the lower end, 1-4%, we may need to backfill (fill in and tamp small increments to keep grade accurate).
Now it's time to dig out the ditch and flatten the area where the culvert pipe will lay. To make sure that the flattened area slopes toward the lower end, 1-4%, we may need to backfill (fill in and tamp small increments to keep grade accurate). Place the culvert pipe in prepared ditch
The backfill used, should not have any large materials, should be easy to compact, and should be stable under load. Soil available from the immediate area or other aggregates such as sand, fine crusher run, and gravel are all good to use to backfill the culvert pipe (again doing so in smaller increments and tamping as you go). If using sand or erodible materials, protect the ends to keep the sand from washing or piping. Ideally you want to create a backfill layer of 8-16 inches (all depending on the type of traffic) over the pipe, before the driveway material is laid.
HOW MUCH DOES INSTALLING A DRIVEWAY CULVERT COST?
Driveway culvert installations have so many factors contributing to its' overall cost that it's best to have a professional contractor meet with you on site. Some installs can cost $1200 whereas more complex jobs can cost $5000 and up.
WHO CAN INSTALL

A DRIVEWAY CULVERT
It is crucial to hire an experienced contractor who have the knowledge and capability of installing driveway culverts. An experienced company like Justice Sealcoating and Excavating will present the finished product on schedule and will give you the peace of mind knowing it was done right. Our experience and dedication will ensure your investment and give you an entrance that will serve you for years to come!
What Our Clients Say About Us
Allen with Justice Sealcoating does amazing work at great prices. I use him as a subcontractor for the Delaware area and could not be happier with his all-around asphalt maintenance work. I hear nothing but great things from customers about him and his work. I would highly recommend him to anyone looking for any asphalt maintenance.
I have been using Justice Sealcoating as my go-to asphalt contractor since they came into the business in 2017. As a local business owner here in Delmarva, quality doesn't cost, it pays, and In this case, that statement couldn't be more accurate. Allen is a dependable contractor with competitive prices and superior work that I would recommend 10/10.
As a repeat customer, I am very pleased with the sealcoating of my driveway that Justice Sealcoating has provided time in and time again. Attention to detail is very important to me as well as being educated about the services I am paying for. Allen will be my go-to guy for years to come.
COMMON QUESTION AND ANSWERS
Commercial and Residential Asphalt Sealcoating in Delmarva
Justice Sealcoating & Excavating specializes in commercial and residential asphalt sealcoating, line striping, pothole repairs, crack filling as well as other services for its customers throughout Delmarva. We are a one stop shop for all your asphalt needs, as we have done extensive research on asphalt products to keep up with industry standards. Our goal is to provide you with high-quality services and solutions that will keep your asphalt or new investment protected for many years to come.
Justice Sealcoating & Excavating is a fully licensed and insured company that has the skills, expertise, honesty, and reliability to get the job done beyond your expectations,
contact us
to schedule your free consultation.