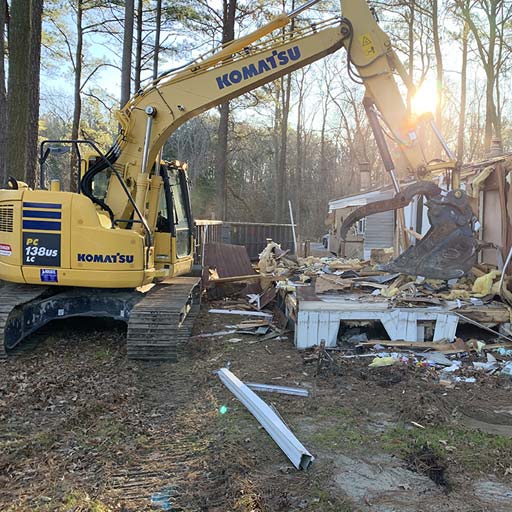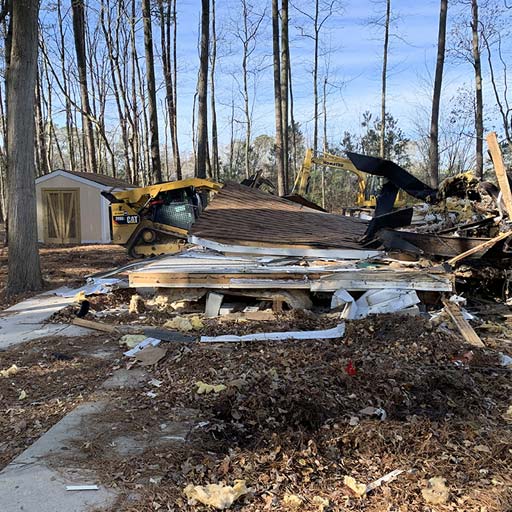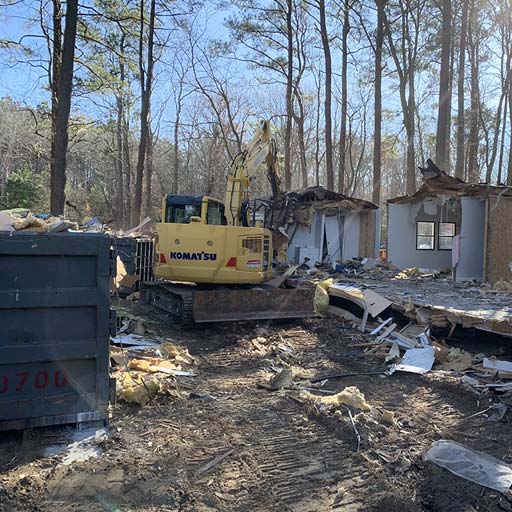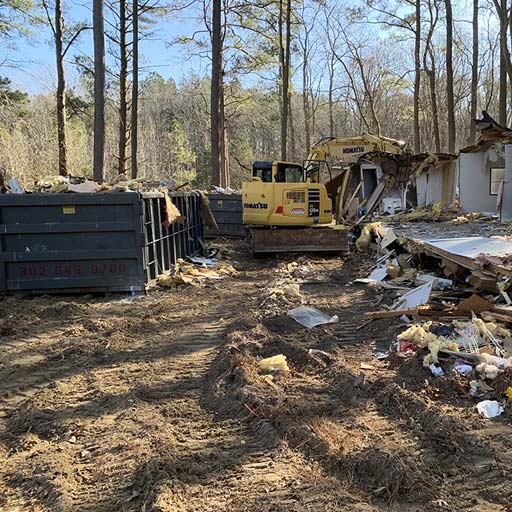 Residential demolition is the task of dismantling and removing all materials that once were used in the construction of an existing inhabitable structure. Usually, the main objective for the residential demolition request of a structure, is to restore the property to its pre-construction condition. This allows the property to become a "blank canvas" for future development opportunities. To achieve this goal, several factors need to be considered which include ordinances/regulations that are attached to the property as well as the location of the structure on the property, accessibility, and magnitude of the project to name a few. It is important to remember that most structures have a designed lifespan and are built to withstand the elements. Residential demolition goes against that concept and incorporates whatever means necessary to destroy a structure that was built to endure.
PROCEDURES IN RESIDENTIAL DEMOLITION
Procure necessary permits, surveys and drawings/documents required by governing agencies that have jurisdiction over your property. This includes written permission from any HOA/POA's that you may have associations.
Contact all Utility Companies, who offer service in your area, and notify them of your upcoming residential demolition project. Have each one physically mark all lines/connections located on your property and where necessary, remove or relocate lines that fall within the demolition area. Call 811 several days before residential demolition work begins to expedite this process and protect you from any hidden or missed lines that could be damaged during the work.
Inspection of both property and structure for potential complications. The initial walk thru should include the property owner, contractor and any other professional involved in the planning/construction process. The topography conditions of the property is imperative to insure easy accessibility and minimal erosion issues during and after residential demolition is completed. The proximity of neighboring structures and property lines need to be considered as a proactive measure. When inspecting the structure, pay attention to possible structural defects and/or abnormalities which could hinder the extraction process. Be on the lookout for any possible hazardous materials within the building and if discovered come up with an appropriate plan of disposal.
NOT EVERYTHING BELONGS IN THE TRASH
Current design trends along with an ever-growing environmental conscience has turned recycling into a highly profitable industry. Extrapolating reusable materials is very labor intensive but can provide high returns. Ultimately, the more materials you salvage, the more potential savings. Also, the less debris means fewer containers required for haul-offs, saving you money and our landfills.
Recyclable materials in high demand include:
Wood products such as baseboards, crown molding, trim, cabinets, doors and even fencing/decking materials.
Appliances and Kitchen/Bathroom fixtures including sinks, tubs, toilets, faucets/drains and countertops can be refurbished.
Metals found in plumbing and electrical work along with outlets, conduit, vents, light fixtures and ceiling fans.
Concrete, tile, brick and other aggregate based materials can be recycled as is or crushed for alternative applications.
Windows, flooring, water tanks, A/C and heating units garage doors and openers along with similar items all have value.
HOW TO GO ABOUT RESIDENTIAL DEMOLITION
There are several methods used in residential demolition ranging from, using hand tools and deconstructing the house piece by piece, to incorporating explosives taking out a structure within minutes. In residential demolition, the most common method involves the use of heavy equipment; such as excavators with a thumb attachment and/or dozers. The excavator removes a section at a time and deposits the debris immediately into a container truck for haul off. This process repeats itself until the entire structure is removed, which may or may not include the foundation. For those wanting to remove only the existing structure and replace with a new building; using the existing foundation may be an option. However, when both the structure and foundation are removed, the ground is leveled and any site work is completed to enhance the landscape for future development.
Residential

demolition expertise
A residential demolition project can be quite an undertaking. That is why contacting an experienced demolition contractor, like Justice Sealcoating and Excavating, is crucial to getting the job done correctly.
What Our Clients Say About Us
Allen with Justice Sealcoating does amazing work at great prices. I use him as a subcontractor for the Delaware area and could not be happier with his all-around asphalt maintenance work. I hear nothing but great things from customers about him and his work. I would highly recommend him to anyone looking for any asphalt maintenance.
I have been using Justice Sealcoating as my go-to asphalt contractor since they came into the business in 2017. As a local business owner here in Delmarva, quality doesn't cost, it pays, and In this case, that statement couldn't be more accurate. Allen is a dependable contractor with competitive prices and superior work that I would recommend 10/10.
As a repeat customer, I am very pleased with the sealcoating of my driveway that Justice Sealcoating has provided time in and time again. Attention to detail is very important to me as well as being educated about the services I am paying for. Allen will be my go-to guy for years to come.
COMMON QUESTION AND ANSWERS
Commercial and Residential Asphalt Sealcoating in Delmarva
Justice Sealcoating & Excavating specializes in commercial and residential asphalt sealcoating, line striping, pothole repairs, crack filling as well as other services for its customers throughout Delmarva. We are a one stop shop for all your asphalt needs, as we have done extensive research on asphalt products to keep up with industry standards. Our goal is to provide you with high-quality services and solutions that will keep your asphalt or new investment protected for many years to come.
Justice Sealcoating & Excavating is a fully licensed and insured company that has the skills, expertise, honesty, and reliability to get the job done beyond your expectations,
contact us
to schedule your free consultation.