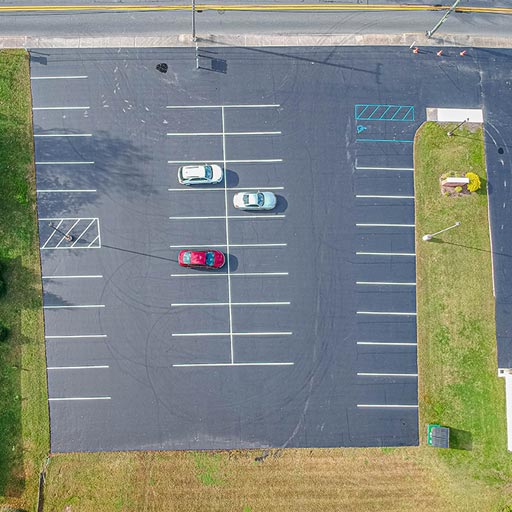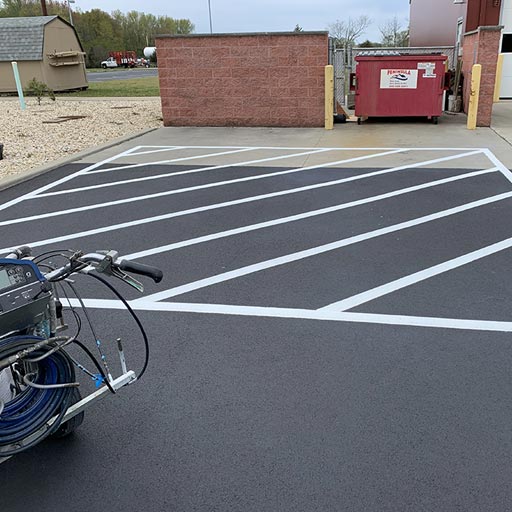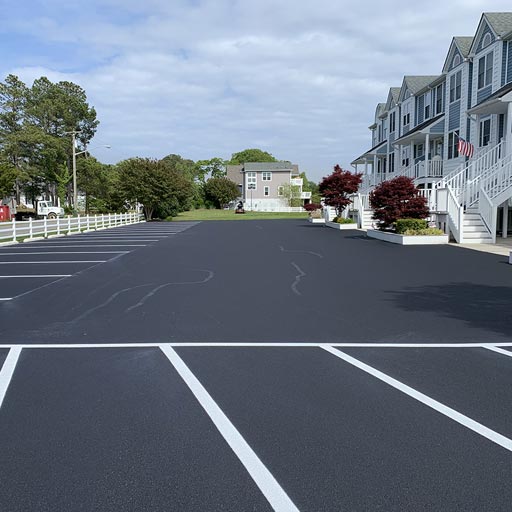 Regulations state that when you construct, repave, restripe, or alter your parking lot, you must make sure that you have the minimum number of correctly marked handicapped spaces to comply with the Americans with Disabilities Act established 1990. ADA guidelines also apply to obstacles between the handicapped spaces and the entrance to your building.
Line striping is an especially important part of any business that utilizes a parking lot. The parking lot is the very first thing a customer will see while visiting your property. Making a great first impression is a good way to start your customer's experience. Bright lines clearly marked parking spots and a friendly parking layout is what we specialize in providing. Whether it is a basic re-paint of your existing lines or a totally brand-new parking line configuration we can help you with our full array of parking lot stencils and templates. We have a wide variety of directional arrows, wording, numbers, ADA, electric vehicle, and many other stencils you may want or require. Let us not forget how important it is to provide the proper ADA requirements that businesses have. Our experts are well versed in all current ADA striping dimensions and requirements. We can get your parking lot up to code if there is an issue with your ADA parking. We only use the best available paint that is designed for heavily traveled areas.
Repainting

To Complete Overhaul
From simple repainting jobs to complete layout overhaul of your parking lot, we have the right experience and equipment to successfully complete your job – on time and within budget. From shopping malls and commercial properties to industrial parking lots, no job is too big for us. Equipped with all the necessary stencils for letters, numbers or symbols you may need – we are a one stop destination for all your line painting needs.
What Our Clients Say About Us
Allen with Justice Sealcoating does amazing work at great prices. I use him as a subcontractor for the Delaware area and could not be happier with his all-around asphalt maintenance work. I hear nothing but great things from customers about him and his work. I would highly recommend him to anyone looking for any asphalt maintenance.
I have been using Justice Sealcoating as my go-to asphalt contractor since they came into the business in 2017. As a local business owner here in Delmarva, quality doesn't cost, it pays, and In this case, that statement couldn't be more accurate. Allen is a dependable contractor with competitive prices and superior work that I would recommend 10/10.
As a repeat customer, I am very pleased with the sealcoating of my driveway that Justice Sealcoating has provided time in and time again. Attention to detail is very important to me as well as being educated about the services I am paying for. Allen will be my go-to guy for years to come.
COMMON QUESTION AND ANSWERS
Commercial and Residential Asphalt Sealcoating in Delmarva
Justice Sealcoating & Excavating specializes in commercial and residential asphalt sealcoating, line striping, pothole repairs, crack filling as well as other services for its customers throughout Delmarva. We are a one stop shop for all your asphalt needs, as we have done extensive research on asphalt products to keep up with industry standards. Our goal is to provide you with high-quality services and solutions that will keep your asphalt or new investment protected for many years to come.
Justice Sealcoating & Excavating is a fully licensed and insured company that has the skills, expertise, honesty, and reliability to get the job done beyond your expectations,
contact us
to schedule your free consultation.